Best Landscape Edging & Curbing Service
Hugo's Concrete installs edging and curbing for Fort Collins, Greeley and surrounding Northern Colorado.
What are Edging and Curbing in Landscaping?
Edging and curbing is the process of establishing borders between the different elements of a landscape design. This can look like strategic paving, fencing, or laying bricks around the edge of flower beds, just to name a few. 
Not only does this help control the transitions and proportions of a landscape design, but edging and curbing can protect plants and flowers. By creating designated areas for shrubbery, plants, flowers, and grass, you separate the roots for each plant and prevent them from affecting the soil and water for another. 
Why Concrete for Landscape Edging & Curbing?
Since concrete is a durable and versatile material, the design options are limitless, low maintenance, and long-lasting. 
Contact Hugo's Concrete today for a quote on your edging and curbing project!
3 Ways to Use Concrete to Edge Your Lawn
One edging technique is to plan landscape elements around structures in your yard (like a patio). You can install a concrete patio or extension of your current patio and shape it however you like. This will serve as a natural stopping point for the surrounding elements of your landscape design.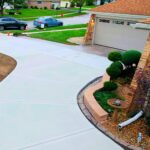 Concrete walkways are a practical way to define the sections of your landscape while increasing the functionality of your yard in the process. Designated walkways allow you to move freely throughout your outdoor space without risking slipping on or tripping over plants and roots.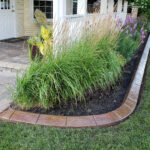 Edge your flower beds with a concrete border. Contractors like Hugo's Concrete provide stamping and staining options, so you can pick unique transitions between your landscape elements in colors and textures that fit your taste and accent your home.
Concrete Landscape Services: Hugo's Concrete installs edging and curbing for Fort Collins, Greeley, Loveland, Berthoud, Longmont, Superior, Broomfield Windsor, and surrounding Northern Colorado residents!
Ready to begin your project? Contact us today to talk about your edging and curbing needs. We'll provide an accurate quote on your edging and curbing project for free!